Dr. Sarah Youssef
Research Assistant
Assistant Editor gender forum
Department of English I
University of Cologne
Albertus-Magnus-Platz
50923 Cologne
Germany
Office: Philosophikum, Room 1.115
Tel: +49 (0) 221 / 470 - 3030
E-Mail: youssefs@uni-koeln.de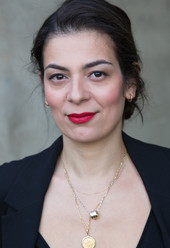 Key Research Areas
Performance Theory
Experimentag Theatre
Fin de Siècle
Shakespeare
Immersive Theatre and Performance Art
Gender Studies
Arabic Theatre on the European Stage
Selected Publications
Youssef, Sarah. Prison Theatre – Performing Life, Doing Time, Intellect Publishing (forthcoming).
---. "Arab Dramaturgies on the European Stage: Liwaa Yazji's Goats (Royal Court Theatre, 2017) and Mohammad Al Attar's The Factory (PACT Zollverein, 2018)," Arab Stages, vol. 10, 2019. Web.
---. "The Missing Language of Freedom: Code-switching in Yaël Farber's Mies Julie (2012)," South African Theatre Journal, 2019. Web.
CV
Publications
Courses
Office Hours