Teach-in #2: Re-reading bell hooks - Being with bell
Join us for the second installment of our Doing/ Teaching American Studies series. During the Teach-in, which will take place on February 3, 2022, from 7.30 - 9.15 p.m. via Zoom, American Studies scholars from different German universities will share their reflections and lead a conversation about the impact of the work of the late Black feminist, scholar, activist, and educator bell hooks.
Contributors
Nathalie Aghoro (Eichstätt)
Tensae Desta (Cologne)
Courtney Moffett-Bateau (Bremen)
Rahab Njeri (Cologne)
Christine Vogt-William (Bayreuth)
In order to register for the event, please send an email to american-studies[at]uni-koeln.de. Please register by 4 p.m. on the day of the event, so wie can send you the Zoom information in time for the Teach-in.
---
Call for Contributions Teach-in #3: "Teaching American Studies with and through Humor"
Organizer: Jun.-Prof. Dr. Nele Sawallisch (University of Trier)
Date: Summer term 2022 | Time T.B.A | Zoom
Proposal Deadline: March 30, 2022
During our first teach-in in February 2021, we considered the Trump administration's 1776 Report and its impact on teaching American Studies (in Germany). Our proposal for a new event picks up the underlying baseline of "doing" and "teaching" American Studies by inviting reflections on humor in relation to and in the field. While this concern might seem less "serious" than that of our first teach-in at first glance, we consider it no less important in terms of the personal and institutional politics involved in being a funny person in the classroom. More precisely, we suggest two larger concerns for our discussion:
I. Teaching with humor: What humorous materials do people use in class and to what purposes (comics, memes, humorous films/TV/videos, …)? Have people been using such materials more often following a particular event (the Trump presidency, the pandemic, etc.)? What role does "having a laugh" together play in your teaching? People are invited to share examples they consider successful—or (productive) failures!—with the group by placing them in the context of their classes and teaching philosophies.
II. Teaching through humor: What happens when we use humor as teachers in academia? How does the use of humor relate to the prominent idea in Germany of the "serious" academic? In other words, can funny people maintain a reputation as serious scholars, and does the use of humor affect scholars in different career stages in different ways? How does the use of humor affect our gendered, or racialized, or otherwise marked bodies as scholars and teachers in the classroom? What role does humor assume in times of pandemics, ecocrises, deepening political divisions, the politicization of "freedom of speech" in academia, or other crises?Both sections are invited to reflect on the politics of humor in the American Studies classroom.
Program and Organization: Building on the success of our last teach-in, we propose up to 10 slots for contributors (5 in each of the two sections) who will be allotted 5-7 mins to share their impulses. We will finish the teach-in with a plenary discussion.
If you'd like to present and share in either of the two sections, please send an e-mail with a brief outline of what you want to do by March 30, 2022 to Nele Sawallisch at sawallisch
uni-trier.de

Date: The event will take place online (zoom) during the summer term 2022. More information on how to participate T.B.A.
---
Teach-in #1: The 1776 Report and its Afterlives: Critical Responses from German American Studies
Organizers: Jun.-Prof. Dr. Judith Rauscher (University of Cologne) & PD Dr. Stefanie Schäfer (University of Vienna)
February 4, 2021 I 6pm - 7 .45pm I Zoom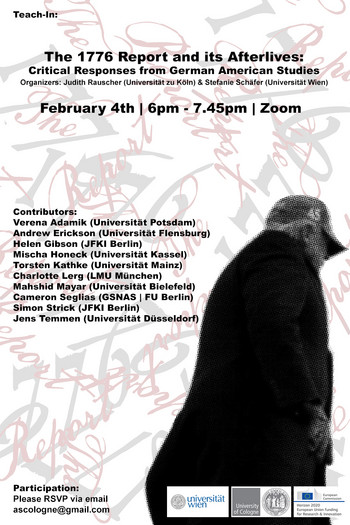 Published on the eve of the Trump Presidency by "The President's Advisory 1776 Commission," only days after militant white supremacists stormed the United States Capitol, the 1776 Report documents the Trump administration's efforts at legacy building. The report talks back against the 1619 Project, which reframes the history of the United States by tracing the country's origins back to the arrival of the first enslaved African peoples on North American shores and by exploring the impact of anti-Black racism on its social, economic, and political development ever since. The 1776 Report seeks to defend what it represents as "the facts of [the] nation's founding" and to achieve what it calls "a restoration of American education," peddling exceptionalist mythographies linked to the founding of the United States and the Declaration of Independence. In doing so it spells out Trump's populist strategy to "animate […] white settler-colonist attitudes and animosities" (Pease 2020, 25)1 to denigrate liberal institutions and protest movements such as Black Lives Matter.
The 1776 Report received sharp criticisms by historians and American Studies scholars across the world; it was publicly condemned by the American Historical Association (AHA) and the American Association of University Professors (AAUP). After President Biden issued an executive order dissolving the 1776 Commission on January 20, 2021, the report was removed from the White House website, turning it into a haunting presence in the United States cultural archive.
On February 4, 2021, nearly 80 scholars and students of American literature and culture came together in a virtual meeting organized by Stefanie Schäfer (Vienna) and Judith Rauscher (Cologne) for a teach-in on the 1776 Report. After listening to short comments by 10 specialists in American cultural studies and American history from universities across Germany on individual sections and themes in the report, the participants of the teach-in discussed the afterlives of Trumpism in the American public sphere and beyond, including its meanings for the American Studies classroom.
---
1 Pease, Donald. "Donald Trump's Settler-Colonist State (Fantasy): A New Era of Illiberal Hegemony?" Trump's America. Political Culture and National Identity. Ed. Liam Kennedy. Edinburgh: Edinburgh University Press, 2020, 23-52.
Program Teach-in #1: The 1776 Report and Its Afterlives
Welcome and Opening (Judith Rauscher, U of Cologne)
Background/History of the Commission (Torsten Kathke, U of Mainz)
The Meaning of the Declaration (Mischa Honeck, U of Kassel)
Slavery (Cameron Seglias, FU Berlin)
Communism (Verena Adamik, U of Potsdam)
Racism and Identity Politics (Simon Strick, JFKI Berlin)
------------------------------------------ Short Break ---------------------------------------------
Teaching America (Charlotte Lerg, LMU Munich)
The American Mind (Stefanie Schäfer, U of Vienna)
Appendix III (Helen Gibson, JFKI Berlin)
Absences in the Text (Andew Erickson, U of Flensburg)
US-Imperialism (Mahshid Mayar, Bielefeld, and Jens Temmen, U of Düsseldorf)
Discussion and Summary (Stefanie Schäfer, U of Vienna)
Click here for a list of useful resources on the 1776 Report.