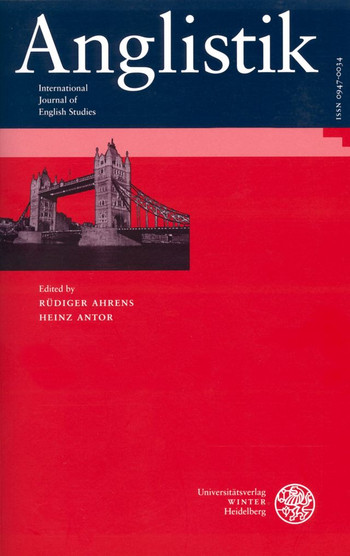 Anglistik: International Journal of English Studies
Founded in 1989, Anglistik (ISSN 0947-0034) is the official journal of the German Association for the Study of English. It is an internationally oriented journal published three times a year and dedicated to the scholarly study of Anglophone literatures and cultures as well as English language and media studies. Thematic foci are supplemented by general sections (Varia) which cover a wide range of topics. There is also a review section. Interdisciplinary contributions are welcome. Submissions can be sent directly to the editor at H.Antor@uni-koeln.de or to redaktion-anglistik@uni-koeln.de.
Deadlines for submissions are April 1 (for the summer and winter issues) and October 1 (for the spring issue).
Articles for Anglistik must be written in English. They will be subject to a peer review process. For more information, please see our style sheet.
Editors
Prof. Dr. Heinz Antor
University of Cologne
English Seminar I
Albertus-Magnus-Platz
50923 Cologne

Tel.: +49 (0)221/470-2819
E-mail: H.Antor
uni-koeln.de

Univ.-Prof. Dr. Julia Hoydis
University Klagenfurt
Department of English
Universitätsstraße 65-67
9020 Klagenfurt am Wörthersee
Austria

Tel.: +43 463 2700 2519
E-mail: Julia.Hoydis
aau.at
Editorial Office
Dr. Victoria Herche
Alexandra Galley
Gianluca Calio
Aylin Walder
University of Cologne
English Seminar I
Albertus-Magnus-Platz
50923 Cologne
E-mail: redaktion-anglistik
uni-koeln.de