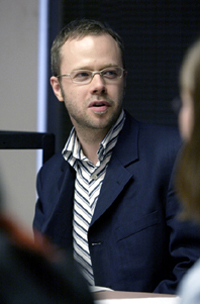 Prof. Dr. Paul Arthur held the Dr. R. Marika Visiting Chair of Australian Studies in the winter semester 2013/2014.
He is Professor of Digital Humanities at the University of Western Sydney, where he leads the UWS Digital Humanities Research Group. He was previously Deputy Director of the ANU Centre for European Studies, a joint-funded special initiative of the European Commission and the Australian National University. From 2010-13 he was Deputy Director of the National Centre of Biography, ANU, and Deputy General Editor of the Australian Dictionary of Biography. A Fellow of the Royal Historical Society, he has over fifty publications in fields of history, literature, communication and cultural studies, and has held fellowships in Australia, Europe and North America. Paul Arthur is inaugural President of the Australasian Association for Digital Humanities, and a member of the steering committee of the Alliance of Digital Humanities Organizations and the executive council of centerNet, the international network of digital humanities centres. He also serves on the executive committee of the International Auto/Biography Association, the advisory board of the Australasian Consortium of Humanities Research Centres, and project board of the Australian Government NeCTAR Super Science initiative.

Paul Arthur is founding editor of the Anthem book series Scholarship in the Digital Age (Anthem Press, London and New York) and an editorial board member of LLC: The International Journal of Digital Scholarship in the Humanities (Oxford University Press). Recent publications include Virtual Voyages: Travel Writing and the Antipodes 1605-1837 (2010), a cross-cultural study of European travel literature and cartography, and the edited volumes International Life Writing: Memory and Identity in Global Context (2013), Australian Dictionary of Biography Volume 18 (2012, Deputy General Editor), Recovering Lives (2011) and, with Geoffrey Bolton, the award-winning Voices from the West End (2012). Works in progress include Repurposing the Digital Humanities (ed., with Katherine Bode); Australian Culture and Identity: Transnational Perspectives in Life Writing (ed.); Framing Lives (ed., special issue, Auto/Biography Studies); and Private Lives, Intimate Readings (ed., with Leena Kurvet-Käosaar, special issue, Life Writing).

Over the past decade he has been a visiting fellow at: the Institute of English Studies, School of Advanced Study, University of London (2010-11); HUMlab, the digital research centre at Umeå University, Sweden (2009-10); the Center for Cultural Analysis, Rutgers University, USA (2009); the Centre for Historical Research, National Museum of Australia (2007); Manning Clark House, Canberra (2007); and the Humanities Research Centre, Australian National University (2006). In 2004 he was Helen and John S. Best Research Fellow at the American Geographical Society Library and an International Associate of the Center for 21st Century Studies, University of Wisconsin-Milwaukee. In the same year he received an Australian Academy of the Humanities Fieldwork Fellowship.

Paul Arthur has a PhD from the University of Western Australia, Bachelor of Arts in English and Comparative Literature with First Class Honours (Murdoch University, Western Australia), and Diplomas of Leadership and Management (University of Western Australia Business School) and Teaching English as a Foreign Language (International Learning Centre, Edinburgh). Paul is also a violinist, with an Associate of Music (AMusA with distinction, Australian Music Examinations Board). He has performed and recorded with international artists including Yothu Yindi, Andrew Farriss, Tania Kernaghan, Billy Thorpe and José Padilla.