Gothic Renaissance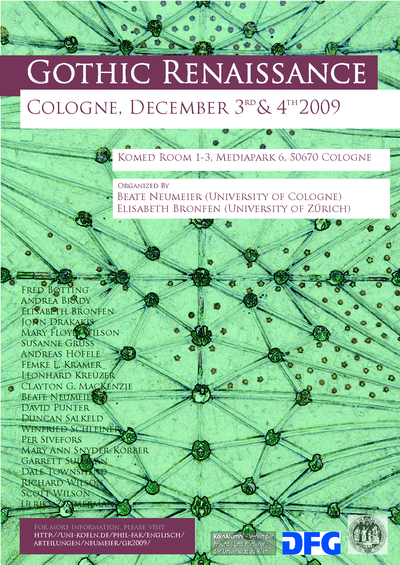 The connection between the Gothic and Shakespearean drama has been explored from the perspective of gothic writers for a long time. Walpole's famous reference to Shakespeare in his preface to The Castle of Otranto as a legitimising strategy of the new genre of the gothic novel was only the starting point of an important series of gothic writers drawing on Shakespeare. Accordingly, scholarship on the gothic has increasingly focussed on the various connections to Shakespearean texts. The intervention of Shakespearean scholars in this field is only a recent development, most prominently stated in Gothic Shakespeares, ed. by Drakakis/Townshend in 2008.
This new interest in exploring the proto-gothic qualities of Shakespearean plays like Hamlet and Macbeth or A Midsummer Night's Dream can be linked to the established traditions of critical readings of Shakespeare which examine the author's interest in the supernatural and in ghostly apparitions, in magic and witchcraft, trauma, horror, madness and death.
In this symposium, we enhance the dialogue recently opened up between scholars in the field of Gothic and Renaissance studies. The symposium continues the exploration of the relationship between Shakespeare and the gothic and also includes other Renaissance texts. Thus the symposium on the Gothic Renaissance focuses on drama, epic and prose narratives, ghost stories, pamphlets, treatises etc.
Re-reading the cultural anxieties of the Renaissance through notions of the gothic sheds new light on the interaction of conflicting discourses accompanying the emergence of Early Modern notions of gender, race, nation and individual subjectivity and their negotiation in cultural forms and distinctive aesthetic genres. Thus, this research has repercussions on succeeding periods, such as the Restoration and necessitate a reappraisal of late 17th- and early 18th-century cultures.
A number of internationally renowned scholars participate in this symposium and present their views on these issues from their specific areas of research. Among them are Fred Botting (Lancaster University), Andrea Brady (Queen Mary, University of London), John Drakakis (University of Stirling), Mary Floyd-Wilson (University of North Carolina at Chapel Hill), Katharine Goodland (City University of New York), Andreas Höfele (Universität München), David Punter (University of Bristol), Duncan Salkeld (University of Chichester), Winfried Schleiner (University of California, Davis), Garrett Sullivan (Pennsylvania State University), Dale Townshend (University of Stirling), Richard Wilson (Cardiff University), and Scott Wilson (Lancaster University).